2007 World Series Game 1 Preview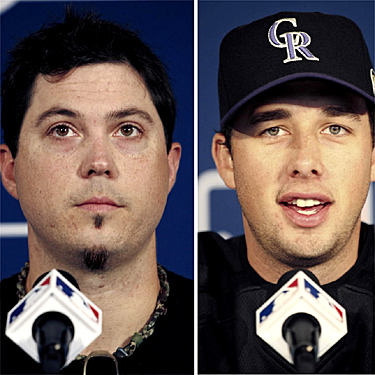 ---
October 24, 2007
---
By: KJ
---
Assessing Tonight's Game
Starting Pitchers: Jeff Francis (COL 2-0) vs. Josh Beckett (BOS 3-0)
Ask Boston fans if they are worried about Jeff Francis. Responses will look something like this. One percent will say yes, two percent will say no, and ninety seven percent will say "who the hell is Jeff Francis." This is not surprising because fans are arrogant American League fans and have no respect for the National League even though the Senior circuit has won just as many World Series as the American League since 2001. Although Rockies fans could tell you who Josh Beckett is and how lights out he has been in the post season. During that same time Colorado ace Jeff Francis has put up similar numbers nearly without any notice from the national media or average baseball fans.
Being the fantasy baseball geek I am, I know Jeff Francis and just how valuable he is to a starting rotation. I am nearly certain he was on all five of my fantasy rosters as one of my "LIMA plan" guys. For those who are not roto nerds LIMA stands for Low Investment Mound Aces created by fantasy legend Ron Shandler personified by Jose Lima who was Shandler's Ace on his team. As for me, I always like to look for these kinds of guys who are generally pitchers with an ERA between 3 and 4 and are innings eaters. Francis is probably the guy whom I most proud of finding.
In 2006 the Rockies ace threw 199 innings with a 4.16 ERA and this year he put similar numbers posting 215 and a third innings and a 4.22 ERA. While these are solid numbers, his two playoff starts are even more impressive. Francis won both games he tossed and allowed 2.13 runs per nine innings. This is compared to Beckett who has been outstanding posting a 1.17 ERA. While Beckett is clearly better, Francis has the stuff and the confidence to go in and shut down the potent Red Sox lineup. Because of this, The key to tonights game will be if Francis can give a solid seven innings so the Rockies can stay in it.
The Edge: Boston but by less then some may think
Starting Lineup:
The usual suspects: For the Rockies the number one key guy for them will be Matt Holliday. As goes Holliday so goes their lineup. Holliday has an excellent track record against Beckett which could be crucial in a possible pitcher's duel situation. He is six for fourteen lifetime and was two for three in a matchup this year which included a homer. His presence in the number three spot will likely be connected to Todd Helton's performance in this series. Helton could be the guy that makes or breaks the Rox chances. If he shows up, I predict a Rockies win.
The one through four guys are key for Boston. Francis was able to shut down the top four sluggers on both the Phillies (which includes three MVP candidates) and the Diamondbacks. Pedroia may have problems getting on base because as a slap hitter, he is likely not to get as many hits against the slick fielding rockies. Jhonny Peralta will not be manning short this series. Instead, should be gold glove winner Troy Tulowitzki narrows the holes for which the Sox rookie can hit. Youkilis had a difficult time with Francis in June. Francis's ability to control all his pitches got Youk to strike out twice which is a rare occurrence. Then of course there are the big boppers Ortiz and Ramirez. Traditionally, Francis faces 3 and 4 hole hitters well. Ortiz may have trouble with Francis's curveball but I expect Manny to be Manny because he is an excellent two strike hitter.
The Edge: Colorado but only by the tiniest bit (note: Beckett makes this nearly irrelevant tonight)
The Bullpen
The Rockies bullpen is better than Boston in Middle Relief and Boston has a better back end. The Sox with Lester, Okajima, and Papelbon in the 7th, 8th, and 9th is very formidable but again Colorado is quite solid.
The Edge: Boston is a little better
Prediction: I think it should be a hell of a game. I can envision a pitchers duel as well as a slug fest in this one. I see more of the former however and I will go with Boston in game one. However, I think the first team to four runs should win this game.
KJ can be contacted at kjcity520@yahoo.com
---
|
---