The Guys
---
Site Co-founder

MLB Editor

NCAA Basketball Editor
---
Site Co-founder

NFL Editor

NBA Editor
---
Site Contributor

NHL Editor

NCAA Football Editor
---
The Battle of the Staals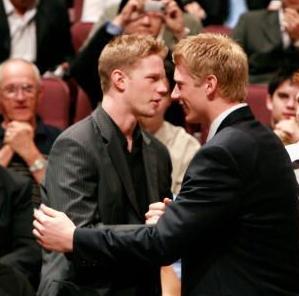 ---
October 23, 2007
---
By: Jay
---
So the Penguins play the Hurricanes tonight? Nope. Pittsburgh plays host to the New York Rangers at 7pm on Versus.
Jordan Staal, the 19 year old center for the Pens will be playing his brother Marc Staal, who is a rookie for the Rangers. Marc is 20 years old. He was drafted 12th overall in the 2005 Draft, but just got the call to the NHL this season.
It will be interesting to watch Jordan and Marc duke it out tonight on national television because Marc is defenseman opposed to Jordan. This is the first time Jordan and Marc have played each other in the NHL.
Look for Jordan to embarrass his older brother in the Mellon Arena tonight. Jordan has a goal and an assist in 7 games this season. Marc has played in 7 games as well and has no points. Marc will be sporting Tony Granato's (and Dominic Moore's) number 18 for the Rangers, and of course Jordan will be rocking the 11 for the Pens.
Make sure you watch this first of many epic battles between these two of the four Staal siblings that are/will be in the NHL. It is on national television, Versus at 7PM. On the same channel, at 6:30 there will be a special on Sidney Crosby. If you are a Pens fan and need to watch this, you should be ashamed of yourself. But if you do not know much about the god that is Sid, this special might be for you.
The Atlantic Divisional Standings:
| | |
| --- | --- |
| Team | Pts. |
| Philadelphia Flyers | 12 |
| New York Islanders | 10 |
| Pittsburgh Penguins | 8 |
| New York Ranger | 7 |
| New Jersey Devils | 5 |
Jay can be contacted at chetdgnome@gmail.com
---
|
---
Pages
---
Archives
---
Kick Ass Sites
---
Technorati Profile
---