The Guys
---
Site Co-founder

MLB Editor

NCAA Basketball Editor
---
Site Co-founder

NFL Editor

NBA Editor
---
Site Contributor

NHL Editor

NCAA Football Editor
---
The Best Team in Baseball and The Shaq Theory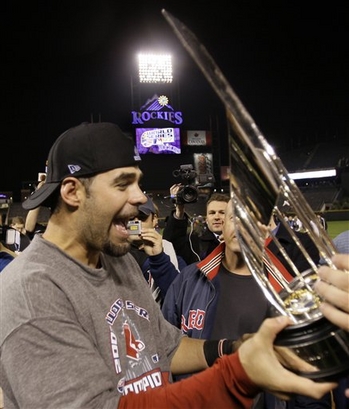 ---
October 30, 2007
---
By: KJ
---
In a previous article I discussed the premise of overconfidence signified by the 1986 Miami Hurricane football team and the fatigues that they wore. I then used that example to explain the Rockies situation in the 2007 World Series. It turns out that I was wrong, so I think I have to test a new and competing theory. My first problem was coming up with a compelling name because it is all about appearance. So as I went through the filing cabinets in my brain I came to the conclusion that the best way to describe the 2007 Red Sox team is my new Shaq Theory. The name derives from all the time Shaquille O'Neal is seen sitting out games because he knows that it is best for the team when he is not tiring himself out while the team is good enough to get into the playoffs and then he goes all out in the post season, when it really matters. The same can be said of the Boston Red Sox this year. Much ado was made about the supposed late season slide that the Sox went through in September, almost giving the American League East title to the Yankees, but in reality the best product was not on the field because they were prepping for October.
This is in part why Terry Francona is such a great manager for that team. The clubhouse is always loose with a sense of swagger. If you would have asked me at the beginning of this year, who is the best team in baseball? Objectively, my answer would have been the Boston Red Sox. That would be because they have pretty much all the factors needed to win a championship. Number one is pitching, and no one can argue that the Red Sox staff is not solid from top to bottom. The second factor I look for is experience and they have it with the world series veterans from 2004 and even guys like Mike Lowell and Josh Beckett who won with the Marlins in 2003. Then there needs to be those spark plugs, most of the time they are hard nose young players who provide enthusiasm. That is most certainly found in guys like Jonathan Papelbon, Jacoby Ellsbury, Dustin Pedroia and while a little older Kevin Youkilis. Finally depth is hugely important. Solid utility players and niche possessors really can really make a difference, whether it be a guy with good speed or a superb fielder. These are the players that can make or break a team. While you don't want a lineup full of hole fillers and spot starters it is important to be able to trust the guys to go into a game and produce. Having all the ingredients of a World Champions, the Red Sox are extremely good and they are fully aware of this. So the goal is just make the playoffs and then we will handle the rest.
This sense of confidence embodied in the statements of Manny Ramirez allow the Sox to achieve the goal of winning the World Series. The Sox Just go out there and play some ball because they know they are the best. So what we are down 3-1 or we only have a one and a half game lead in the division. No worries, man. It will all take care of itself. This is where that gray line emerges between the Hurricanes Fatigue effect and the four time champion Shaq effect. It becomes a scale of confidence versus over-confidence. Where that boundry lies is within effort and work ethic. A certain arrogance in sports should be held by those who deserve it. If that translates in outworking opponents or putting in the extra effort to prove it, that is a great thing. It is when a sense of perception dictates the cohesiveness of a team with accolades but without the mundane accomplishments pertinent to winning.
So I come back to my Shaq comparison. The ability to save the best for when it really matters is a trait often overlooked by sports writers and fans. Of course, I am not promoting dogging it for an entire season and then show up in the playoffs. In that case, it is not possible to turn it on or off effectively to win championships. Rather, I am proposing a sense of perpetual confidence from Spring training to the World Series. Then when problems arise they can be grasped quicker and easier, while not shaking the makeup of a champion. So, if you are good and you know it (please don't clap your hands), show it and keep working to get better all the while focusing on the overall goal.
KJ can be contacted at kjcity520@yahoo.com
---
|
---
Pages
---
Archives
---
Kick Ass Sites
---
Technorati Profile
---