The Guys
---
Site Co-founder

MLB Editor

NCAA Basketball Editor
---
Site Co-founder

NFL Editor

NBA Editor
---
Site Contributor

NHL Editor

NCAA Football Editor
---
The Genius That is Manny Being Manny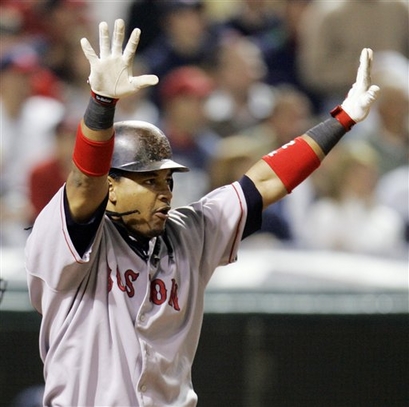 ---
October 18, 2007
---
By: KJ
---
Many of the establishment sports journalists thought that Boston Red Sox Slugger Manny Ramirez celebrating after a home run in game four of the ALCS was contemptible. I can even understand these claims because of the pure absurdity of standing in the batters box arms held high watching as the ball sails into the distance beyond the wall to cut a lead to four runs. That in fact was identical to the celebration after hitting a walk off shot over the monster in game two of ALDS against the Angels. This attitude was then exemplified in a locker room interview in which Ramirez went on to say, "Why should we panic? We've got a great team. ... It doesn't happen, so who cares? There's always next year. It's not like it's the end of the world." I do not take as much offense to Manny's gestures because I know it is just Manny being Manny and it is what makes him so special.
Here are some numbers to think about .313 career average, .409 career on base percentage, and a .593 slugging percentage. For the past twelve years Manny has established himself as one of the most consistent and best hitters in the game. Now where some star players have not been able to carry regular season splendor to post season play, Manny has been able to do the exact opposite. He now holds the record for most post season home runs and for the most part is just Manny being Manny. 24 home runs, 59 RBIs and 51 runs in 328 post season at bats is nothing to scoff at. Indeed he has his ups and downs but in 18 playoff series he has hit .285 or above in 12 out of 18 series, above .300 in 10 series including his previous seven. So why is this occurring?
The answer to that question is simple. It is just Manny being Manny. He goes out onto the diamond whether it be the World Series or Spring training to have fun and maybe make some plays along the way. Compare Manny to a golfer. A good golfer is one in which possesses the talent necessary to be consistently good and then does not let the previous shot affect the next one. Is that not the essence of a good ballplayer as well? This trait is seen in great pitchers and they never get criticized for letting things get to him. Often times they are praised for such behavior. Also, Manny never has been one to call out his teammates or intentionally bring attention to himself like Terrell Owens or other egotists. So when Manny goes through his seven step handshake with David Ortiz after a home run that cut a lead to four or he hits a game winning shot over the monster do not fret. That is why he comes to the ballpark everyday, so he can experience the highs and block out the lows. In fact maybe we as fans could learn a lesson from Manny. We always are looking at the bad as opposed to the good. I can remember just as vividly, if not more so, Barry Bonds failure to throw out Sid Bream running from second to home as I do Antwaan Randle El throwing a perfect spiral to Hines Ward clinching the game in Super Bowl XL. It is this critical view we have because we cannot partake in excitement that is Professional sports that allows us to overlook what it is really about.
KJ can be contacted at kjcity520@yahoo.com
---
|
---
Pages
---
Archives
---
Kick Ass Sites
---
Technorati Profile
---